Published by Penguin Press' Perigee Books and available at all fine bookstores and online. In the Harrisburg area, copies are available at the Midtown Scholar (in the local authors section near the front) and Cupboard Maker Books.
TRUTH IS STRANGER THAN FICTION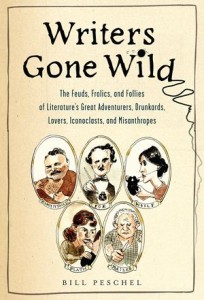 If you've imagined famous writers to be desk-bound drudges, think again. Writers Gone Wild rips back the (book) covers and reveals the seamy underside of the writing life.
Insightful, intriguing, and irresistibly addictive, Writers Gone Wild reveals such fascinating stories as:
* The night Dashiell Hammett hired a Chinese prostitute to break up S. J. Perelman's marriage (and ran off with his wife).
* Why Sylvia Plath bit Ted Hughes on the cheek hard enough to draw blood.
* Why Ernest Hemingway fought a book critic, a modernist poet, and his war correspondent/wife Martha Gellhorn (but not at the same time).
* The near-fatal trip Katherine Anne Porter took while high on marijuana in Mexico.
* Why women's breasts sent Percy Bysshe Shelley screaming from the room.
* The day Virginia Woolf snuck onto a Royal Navy ship disguised as an Abyssinian prince.
Pull up a chair, turn on good reading light, and discover what your favorite writers were up to while away from their desks. Sometimes, they make the wildest characters of all.
Read an excerpt

Online

Plain text file

PDF Format
Podcast

Listen to an excerpt

(16 min.)

(Right-click to save)

Subscribe via iTunes
Freebies

Free WGW Wallpaper

WGW Soundtrack CD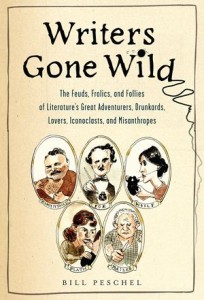 The latest sightings of news and reviews about "Writers Gone Wild":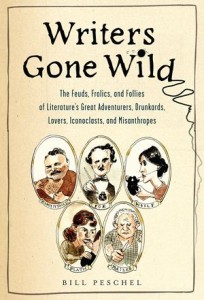 The interview I've done
My biographical information
Publicity Photos & Book Cover
YouTube Soundtrack
Amazon

Barnes & Noble


IndieBound
Powells
UPCOMING APPEARANCES
Some are in the works but not announced yet.
PAST EVENTS
Bill spoke about "Writers Gone Wild" in March 2012, at the Camp Hill Woman's Club at West Shore Baptist Church.
Bill spoke about "Writers Gone Wild" Oct. 6 at the Fredricksen Public Library in Camp Hill.
Bill spoke July 23 at Delta Kappa Gamma's Northeast Convention on "Where Do You Get Your Ideas." Bill discussed the nature of creativity as the result of remixing, not just inspiration; the techniques famous and successful writers used to make their books; and the tools writers need to make it all work.