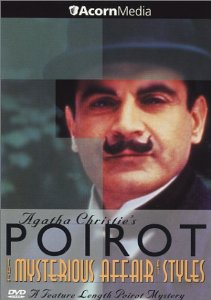 There is only one film adaptation of The Mysterious Affair at Styles. Fortunately, it was from the excellent Agatha Christie's Poirot series starring David Suchet as the Belgian detective.
The British TV show is noted for remaining faithful to the stories and taking pains to use authentic props and locations. This fidelity to Christie rewards viewers unfamiliar with how people lived in Britain at that time. To Americans used to large houses, fluorescent lights and central heat, seeing Styles Court with its crowded rooms and quiet, expansive lawns where its residents take tea and play tennis, can feel as exotic as visiting Middle-Earth.
Screenwriter Clive Exton conveyed the high points of the novel while paring away unnecessary scenes and adding new ones. In a London hospital, Hastings passes the time recovering from his war wounds by watching newsreel footage of the fighting. The movie is silent. Only the sound of a projector being cranked by an orderly can be heard. There is no dialog. There is no need. The look on Hastings' face, the thousand-yard stare of a suffering man, says it all.
Exton also added moments to emphasize Poirot's characteristic self-confidence and habitual desire for order. In one scene, British soldiers moving through a forest and firing their rifles are interrupted by Poirot as he leads his fellow refugees on a nature walk. His lecture on the scarlet pimpernel, observing "that when this flower is open, it is a sign of a prolonged spell of fine weather. It is seldom seen open in this country" is a droll joke worthy of Christie.
Because it is set during World War I, as Britain moves from the Edwardian Age to the Roaring Twenties, Styles feels far more atmospheric than other Poirot episodes. Almost everyone speaks slowly and softly. The furnishings look drab and the rooms feel small, almost claustrophobic. The quiet is almost palpable. The men dress in jackets, ties and shirts with stiff tab collars. Mrs. Inglethorp dresses as if Victoria was still on the throne. The curtain of dust hanging in the air gives the scenes a canvas texture, as if they were paintings momentarily coming to life.
While the mystery is engaging, it seems almost secondary. For a debut novel by a young woman — Christie was 25 — Styles is unusually perceptive about the changing world it inhabits. Characters lament the passing of old-fashioned servants such as Dorcas, and how one has to hire a woman to get the gardening done. Christie grew up in a world similar to Styles Court, and while she moved on with the world, she missed it, and preserved it in her stories.
It's wrongheaded to believe that times were better than today. There were enormous class inequalities, prejudice, and men fighting and dying on distant battlefields — not to mention worse dentistry and food and hard, backbreaking labor — but it took place in a society that seems more comfortable with itself: civilized, relaxed, gracious and personal. Christie recognized that as well. That's why Styles captures that time with affection and regret.
But the best reason to appreciate Agatha Christie's Poirot is that it has managed to film nearly all of the stories featuring the Belgian detective. Suchet's performance as Poirot is so spot-on that even Christie might approve. Purists may argue against some of the producers' decisions, such as shifting the chronology of some of the stories and how they were rewritten for television. But their choices were made with the intention of remaining faithful to Christie's works. And with the filming of the last five episodes — including Curtain — there will exist a library of 69 episodes covering a major portion of Christie's canon. Any writer would be proud to see their work preserved with such fidelity.
Available on DVD
and at Amazon Instant Video
.
Cast: David Suchet (Hercule Poirot); Hugh Fraser (Captain Hastings); Philip Jackson (Chief Inspector Japp); Beatie Edney (Mary Cavendish); David Rintoul (John Cavendish); Gillian Barge (Mrs. Emily Inglethorp); Michael Cronin (Alfred Inglethorp); Joanna McCallum (Evelyn Howard); Anthony Calf (Lawrence Cavendish); Allie Byrne (Cynthia Murdoch); Lala Lloyd (Dorcas)
Writer: Clive Exton
Director: Ross Devenish
Producers: LWT Productions, ITV Productions, Agatha Christie Ltd.
Locations: Chavenage House, Tetbury, Gloucestershire, England; Easton Grey, Wiltshire, England.