"HIGHLY ENTERTAINING . . . [The Early Punch Parodies] offers an insight into the reception of the Holmes stories at the turn of the century." — Maria Fleischhack, Baker Street Babes


"Holes," I cried, "I don't believe you're a man at all — you're a devil."
Genius. Braggart. Scientist. Fraud. Sherlock Holmes has been portrayed as all that and more. "The Early Punch Parodies of Sherlock Holmes" brings together the major stories, reviews, briefs and illustrations that appeared in the legendary British humor magazine during Sir Arthur Conan Doyle's lifetime. Annotated and presented in chronological order, this scrapbook charts the rise of Conan Doyle as a writer and public figure and the meteoric popularity of the world's greatest consulting detective.
"The Early Punch Parodies of Sherlock Holmes" contains:
• All of the 17 stories in R.C. Lehmann's "The Adventures of Picklock Holes."
• P.G. Wodehouse's Sherlockian parodies: "Dudley Jones, Bore-Hunter" and "The Prodigal."
• Briefs and article excerpts that praise and poke fun at Conan Doyle's work and beliefs.
• Five complete Holmes parodies including two that haven't been seen for a century.
• Cartoons by Punch artists E.T. Reed, Bernard Partridge and others.
• Reviews of Conan Doyle's books, including two of the "Sherlock Holmes" play starring William Gillette.
• Notes on the historical background of the articles and writers, essays on Lehmann, Wodehouse and Punch, plus a new short story featuring Mark Twain and John H. Watson!
More than a collection of humorous stories, "The Early Punch Parodies of Sherlock Holmes" shows how Sherlock Holmes shaped the culture, and how the culture shaped our view of Sherlock Holmes.
REVIEWS
"Bill Peschel has managed to give a taste of what it was like back in the days when the Canon stories were in the process of being published and how people reacted to it. Some of the stories in the book were not very funny to me, but I appreciate the weaknesses and eccentricities in the original stories which are pointed out by the parodies.

"I loved reading these stories and the commentary that goes with them and once I finished I was left with the profound sense that Sherlock Holmes has been loved tremendously by Victorian and Edwardian readers – and it shows that we love to poke fun at something we love, as many modern cartoons, stories and videos prove."
— Maria Fleischhack, Baker Street Babes
About the 223B Casebook Series
The 223B Casebook Series from Peschel Press reprints the Sherlock Holmes parodies and pastiches published during Arthur Conan Doyle's lifetime. In addition to being fun to read, the books show how contemporary writers reacted to Conan Doyle's life and works, and how they reshaped Holmes for their own uses. The result is valuable insight into the "history behind the mystery" of the great detective's popularity and endurance.
Now Available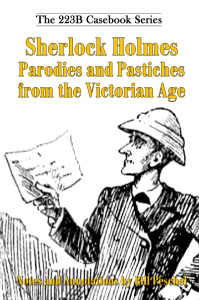 Sherlock Holmes Parodies and Pastiches from the Victorian Era (1888-1899)
Coming in the series: Check out the Books Coming From Peschel Press page for more information.