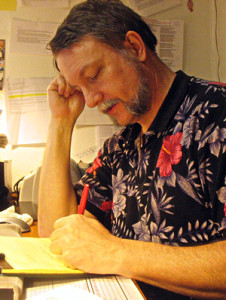 Stories and I go back a long way. I read anything that interested me: Hardy boys books, World Book Encyclopedia volumes, Classic comics, newspapers, H.L. Mencken, Hunter S. Thompson, Rolling Stone, Spy, Edgar Allan Poe, National Lampoon, Peanuts, Cerebus, Dorothy L. Sayers, Dashiell Hammett, Robert Heinlein, Lin Carter, Fritz Leiber, Issac Asimov, Arthur C. Clarke, Harlan Ellison, Agatha Christie, George MacDonald Fraser, Rex Stout, Hemingway, Fitzgerald, H.P. Lovecraft, Evan S. Connell, Lawrence Block, Tolkien, C.S. Lewis, Michael Moorcock, Dorothy Parker, Robert E. Howard, Jack Finney, Rita Mae Brown, Ellery Queen, Tom Wolfe, P.G. Wodehouse, Mark Twain, Douglas Adams, Conan Doyle, and Robertson Davies.
When I turned to book reviewing, I added Henry James, Terry Pratchett, Caroline Graham, Neil Gaiman, Peter Robinson, Lev Raphael, Lee Goldberg, Nabokov, Sinclair Lewis, Janet Neel, P.D. James, Erica Jong, Jasper Fforde, Maria V. Snyder, Jayne Anne Krentz, Ian Rankin, Laurell K. Hamilton, John Mortimer, Marion Chesney, Patrick O'Brian, Harold Adams, Jennifer Weiner, Susan Elizabeth Phillips, Jonathan Maberry, Haruki Murakami, Carolyn Hart, and Kinky Friedman.
That's not including the nonfiction. So, yeah, I read a lot. A more fleshed-out biography can be found in my media kit.
Eventually, I turned to writing stories, but that's been a slow process because I'm wasn't satisfied with them. In the meantime, I was also collecting stories about writers, and that led in 2010 to Penguin publishing "Writers Gone Wild," a collection of stories I wrote for the website.
I had also been annotating the stories of Dorothy L. Sayers, and when I turned to her first book, "Whose Body?", the ease and expansion of self-publishing — and the novel's public domain status in most of the world — led to the founding of Peschel Press.
As of early 2014, the press has published four books, with more to come.