Drawing on his award-winning journalism experience, Bill has edited and revived lost classics of Victorian true-crime cases, anthologies of Sherlock Holmes fanfiction, and deluxe versions of great novels by Dorothy L. Sayers and Agatha Christie. He has also delved into the secret lives of great writers such as Hemingway, Woolf, and Poe as the author of "Writers Gone Wild" (Penguin).

The Complete, Annotated Series
The 223B Casebook Series
Sherlock Holmes & Mark Twain: The Adventure of the Whyos
The Rugeley Poisoner Series
Writers Gone Wild
Hell's Casino (Kindle Worlds)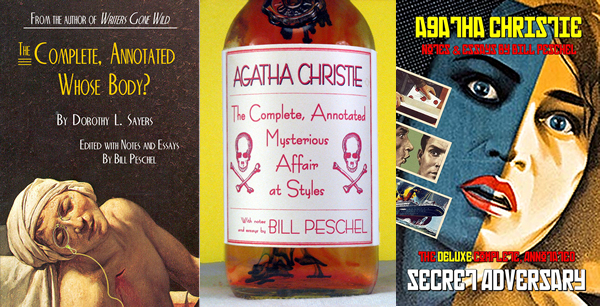 The Complete, Annotated Series
The Mysterious Affair at Styles, The Secret Adversary, Whose Body?
Available in trade paperback and ebooks. Due to copyright, editions not available in the United Kingdom and the European Union.
Why was strychnine used as a tonic? What was a land girl? Why was there a moral panic over "surplus women"?
Between 1920 and 1923, two young men of uncommon talent and taste helped create the modern mystery novel. Dorothy L. Sayers and Agatha Christie wrote for modern readers, but nearly a hundred years later, they've become historical novels.
The Complete, Annotated Series is designed to revive the pleasure of reading these early works of mystery's greatest writers. Find out why it was good to be "as rich as an Argentine" and how the world dances to the tango today. Read why both Lord Peter Wimsey and Sherlock Holmes mentioned the Rugeley Poisoner William Palmer, the great serial killer of mid-Victorian England. Understand how Christie combined a tonic intentionally laced with strychnine with her knowledge of chemistry to kill her victim in "Styles."
The books in the Complete, Annotated Series also reveal the unusual lives and beliefs of Christie and Sayers, how they became writers and created two of the world's greatest detectives (and with their debut novels, no less!).
For more information about the books and where to buy them, click on the book titles to take you to the Peschel Press page.
The 223B Casebook Series
The Early Punch Parodies of Sherlock Holmes; Victorian Parodies and Pastiches: 1888-1899; Edwardian Parodies and Pastiches I: 1900-1904; Edwardian Parodies and Pastiches II: 1905-1909; Great War Parodies and Pastiches II: 1915-1919.
Available in trade paperback and ebooks.
The first series that brings together the fanfiction inspired by Sherlock Holmes and published during Arthur Conan Doyle's lifetime.
Parodies and stories by P.G. Wodehouse, Mark Twain, George Orwell, James Thurber, Dashiell Hammett, Ring Lardner Jr., J.M. Barrie, John Kendrick Bangs, Carolyn Wells, Lincoln Steffans, Jacques Futrelle, Max Beerbohn, "Banjo" Paterson, Earl Derr Biggers, Maurice Leblanc, Finley Peter Dunne, and Bill Peschel!
Each volume comes with the original artwork. The trade paperback also comes with additional art not found in the ebook.
Signed copies for sale at The Mysterious Bookshop in New York City and at Harrisburg's Midtown Scholar.
Kindle Bonus: Buy the trade paperback, get the ebook for free through the Kindle Match program!
Click on the book titles for more information about the books, what stories are in them, and where to buy them.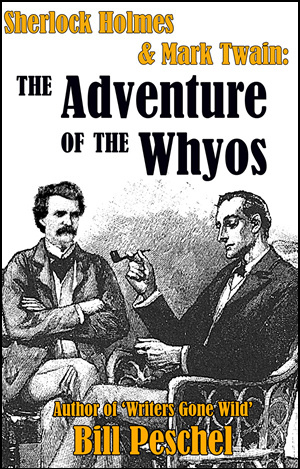 Sherlock Holmes and Mark Twain: The Adventure of the Whyos
Depressed and exhausted, a bankrupt Mark Twain flees to Europe to rest and write. But a wealthy American friend asks him to help marry off his daughter to a titled English lord. When blackmail enters the picture, Twain realizes he has to call in a man nearly as egotistical and talented as himself: Sherlock Holmes.
An 8,000-word short story with samples of other books from the Peschel Press.
Visit the Whyos page at Peschel Press.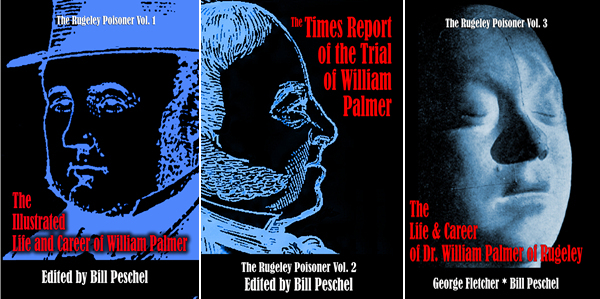 The Rugeley Poisoner Series
The Illustrated Life and Career of William Palmer (1856); The Times Report of the Trial of William Palmer (1856); The Life and Career of William Palmer of Rugeley (1925).
Available in trade paperback and ebooks.
Three long out-of-print books about the murderer that shocked and thrilled Victorian Britain, returned to print in authoritative editions.
London, 1856. For 12 days, the Old Bailey courtroom was the scene where the new science of toxicology clashed with the shady world of horseracing, insurance fraud, murder, and sex. Murder trials would never be the same again.
For more information about the books and where to buy them, click on the book titles to take you to the Peschel Press page.
A Word About Quality
Other print-on-demand publishers offer the 1856 books, but they are scans of PDF from Google Books and other free sites. They contain badly scanned pages with the text in some places barely readable, and woodcuts with the words bleeding through. There are no ebook editions because no one wanted to take the trouble to correct the text, until now.
A Few Words About Copyright
The Peschel Press editions were carefully edited. They were proofed several times. Spelling mistakes were eradicated. Additional material from other books was weaved in, and footnotes added to explain the legal, medical, and murderous aspects of the case. The results are readable editions that are informative as well as entertaining and compelling.
We've also taken the added expense of filing for copyright protection. While the text and images are in the public domain, my footnotes and introductions, the edited edition of the text with its hundreds of changes, and the images that were cleaned up with much effort are not.
This mean:
1. It is illegal to copy Peschel Press ebooks and sell them as your own. We made unique and traceable changes and improvements to the text that will let us track attempts to pirate it.
2. It is illegal to copy Peschel Press' cleaned-up woodcuts and resell them.
If you want to start with the public domain works and create your own books, have a day. But I spent two years and much sweat to bring out these unique editions, and it makes me grumpy to see someone profiting from it.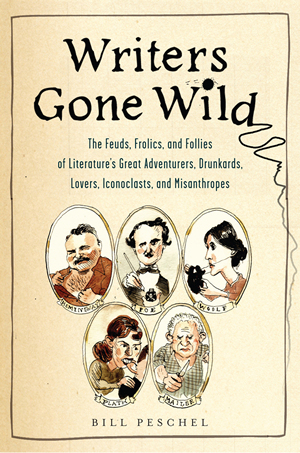 Writers Gone Wild
Available in trade paperback and ebooks.
"Poor Faulkner. Does he really think big emotions come from big words?"
Ernest Hemingway
"[Hemingway] has never been known to use a word that might send a reader to the dictionary."
William Faulkner

"I have more to say than Hemingway, and God knows, I say it better than Faulkner."
Carson McCullers
That's Writers Gone Wild!
"Writers Gone Wild" (Penguin Perigee) rips back the (book) covers to reveal the seamy underside of the writing life:
* Read about the day Virginia Woolf punked the Royal Navy in blackface … Katherine Anne Porter's near-fatal trip on Mexican marijuana … Ernest Hemingway's fight with a modernist poet and his war correspondent wife … Sylvia Plath drawing blood from Ted Hughes…
It's stranger than fiction … except that it's fact!
Available at Amazon: Trade paperback and Kindle. Signed copies available in the consignment section of Midtown Scholar.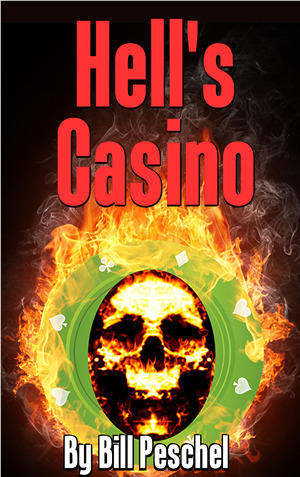 Hell's Casino
A Kindle Worlds ebook based on "The Dead Man" series by Lee Goldberg.
The Rock of Ages casino promises to fulfill the lucky gambler's dreams. But when Matt Cahill stops by one winter night hoping to win enough for a hotel room, he discovers that Mr. Dark has a special game designed just for him. As a mad bomber with a taste for blood pulls off the heist of a lifetime, Matt has to choose between the lives of hundreds of people against a reunion with a resurrected Janey. For the man who lost everything, Matt will have to risk it all to survive "Hell's Casino."
Available as an Amazon Kindle ebook.